Welcome to PinPoint Evangelism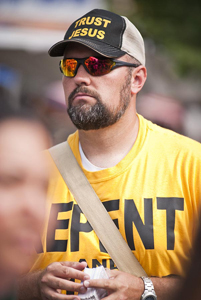 Kerrigan Skelly



My name is Kerrigan Skelly and I am the founder of PinPoint Evangelism. Simply put, I am Pastor/Elder of
Refining Fire Fellowship
and an Evangelist. You may ask yourself, "What is an Evangelist?" Well, Ephesians 4:11-12 tells us exactly what an Evangelist is. It says, "And He gave some as apostles, and some as prophets, and some as evangelists, and some as pastors and teachers, for the equipping of the saints for the work of service, to the building up of the body of Christ." Contrary to popular belief, Evangelists are not people who are specially gifted and called by God to do
all the evangelizing
for the Church of Jesus Christ. Evangelists are those who "equip the saints for the work of service." They are those who teach the Body of Christ, the Church, how to evangelize Biblically. And that is part of the ministry that God has called my family and I to. Another part of our calling is boldly reaching out to the lost everywhere we go. We go to college campuses, bar/club districts, beaches, concerts, sporting events, parades, festivals and other public places where there are large groups of people who need to hear the Gospel. Reaching out to the lost with the Gospel is the calling and duty of every Christian. The Great Commission makes it very clear that all Christians are called to evangelize the lost. Are you seeking to save that which is lost? Are you taking your part in the Great Commission like God has commanded you to? If you aren't and you desire to learn how to take part in the Great Commission, then go to our
Evangelism Seminar Website
or
Contact Us
and we will be honored to teach you how to evangelize simply, effectively, Biblically, the way Jesus did. Below you will find my individual testimony of how I became a Christian and how God called me to be an Evangelist.
Fast Facts About Kerrigan
: *Kerrigan has a Bachelor of Arts Degree in Religious Education from Louisiana College, with a Minor in Religion. *Kerrigan has about 12 years experience as a Youth Pastor, Associate Pastor and Senior Pastor. *Kerrigan has been consistently involved in street evangelism since January 2004. *Kerrigan has been leading Evangelism Teams all over the U.S. since January 2005. *Kerrigan has preached in the open air over 1,000 times at over 70 different Universities, in many Public Parks, on Subways, on Street Corners, in Bar/Club Districts, at Parades, at Sporting Events, at Beaches, at State Fairs, at Concerts, at Festivals and just about any other public place where there are lots of lost sinners who need to hear the Gospel of Jesus Christ! *Kerrigan has been married since 2001 to his wonderful, Godly, meek, quiet, modest, submissive, keeper at home, child rearing, homeschooling, beautiful wife Angela and they have six children as of December 2012. I was raised in a non-Christian home. While I was growing up, my mother usually took me to Church at least on the holidays. From when I was eight years old until I was twelve years old, she took me just about every Sunday. She did her best to raise me the way she knew how: to be a "moral" and law abiding citizen. When I became a teenager, I found "better things" to do as a young person. I would still go to Church on the holidays at times, but I was no Christian and I don't remember ever hearing the Gospel, up to that point.
When I went into the Army after high school, God began to work in my life. I remember a young Christian man trying to have a Bible Study with me when I was in A.I.T. (Advanced Individual Training) in Ft, Sill, OK. I stayed with it for a short period of time and then lost interest because I still loved my sin. As I moved to my permanent station at Ft. Bragg, NC, God continued to work in my life. By the Grace of God, a Christian Supervisor was put over me. He began witnessing to me and I began going to Church on Sundays, with another fellow soldier. I also met someone back home in Maryland who would take me to Church when I visited. God was working in my life in many different ways, but I still resisted Him. I knew I was on my way to Hell because of my sins, but thought I had "plenty" of time for "religious things" later on.
It wasn't until a tragedy happened in my life that I was awakened to the frailty of life. It wasn't until my Grandmother died that I realized I could die at anytime. God has power over life and death and He could demand me to give an account of my life at any time that He chose to. As far as anyone knew, my Grandmother was in good health. Then, while visiting my mother in Maryland, she went into a coma. About two weeks later she died. What God spoke to my heart through my grandmother dying was this: "What if you were to die, all of a sudden, like your grandmother?" I knew I was on my way to Hell and I knew a change needed to happen in my life.
Shortly after she died, I was lying in my bed one night and decided to give my life to Jesus Christ. That night, before I went to sleep, I repented of my sins and put my faith in Jesus Christ. I surrendered ALL to Him and I haven't been the same since. God removed from me my heart of stone and gave me a heart of flesh. He put His Holy Spirit in me which gave me new desires, desires to do what He wanted me to do instead of what I wanted to do. He cleansed my filthy conscience and made it clean, just like it was all brand new. He transformed me from the inside out! I immediately felt a call to Christian ministry. I ran from my call for a year or so and then I finally gave in. I started out by going to school part-time, while working on the side, until God provided a way for me to go to school full-time. Since I have become a Christian, I have been a Youth Pastor, a Sunday School Teacher, a Worship Leader for Youth and Adults, a J.O.Y. Group Pastor of College/Career age people, an Associate Pastor and a Senior Pastor. I have always had a hunger and desire to see the lost saved, as well as to disciple/edify the saints. Unfortunately, at the beginning of my Christian life, I had zeal without knowledge.
In order to become a better witness, I began studying about evangelism and revivals. When I read about revivals I got very excited. I got excited because of how much God worked amongst His people and how many lost sinners would get saved. Then around Christmas 2003, I picked up a book called
Revival's Golden Key
(which is now called Way Of The Master ). I looked at the back and saw that it was written by a strange looking New Zealander named Ray Comfort. I had no idea who this guy was, so I almost didn't buy it. Then I looked at the commendations on the back of the book and there were many by people that I respected at the time, so I decided to buy it. I read all the way through the book in no time, but it wasn't about what I expected it to be about. It was about Evangelism and using the Law when witnessing to people.
I began putting the principles that I learned from that book into action and was very pleased with the evangelistic encounters I had. Then I discovered The Great News Network through Ray Comfort's website. They had something called an "Evangelism Bootcamp". Now this sounded good! I couldn't make it to the first two bootcamps that they had, so I signed up for Evangelism Boot Camp #3 which was in Dallas in October 2004. I witnessed to more people in the first day of Evangelism Boot Camp then I had in the whole year of 2003. I came back from Boot Camp on fire for God and haven't been the same since. I lost much of the fear that I had when witnessing and God made me much bolder to reach the lost for Him. Now I witness everywhere I go! I strive to always be a nobody telling anybody about a somebody who came to save everybody! I thank God that Ray Comfort wrote that book and that The Great News Network put on the "Evangelism Bootcamps"!
It was back in October 2004 that God began to make it very clear to me that He was calling me to be an Evangelist. It just wasn't the right time for me to step out in faith yet. It was less then a year later that God called me out of the Pastorate to be full-time evangelist. So, my wife, my two children and I stepped out in faith, sold most of our possessions and moved East to North Carolina, where God led us to start PinPoint Evangelism (along with my wife's parents). God has blessed us richly for being obedient to His call on our life. He has never failed to fully provide for us and has used us to encourage, equip and edify hundreds (maybe even thousands) of saints through evangelism seminars, "on the job training" and internet media. He has also used us to reach thousands and thousands of lost sinners through open air preaching, 1-2-1 witnessing, passing out tracts and internet media. All glory to Him! We are just servants doing His will!
Things have now come "full circle". I am still constantly preaching the Gospel in the open air and reaching out to the lost through 1-2-1 conversations, gospel tract distribution and internet media. I have been an Elder/Pastor of
Refining Fire Fellowship
since about 2008 and it has been great! It is the most Godly and Biblical Church that I have ever been a part of. The fellowship is going deeper with God and God adds to our number as we are faithful to Him, His Word and His Great Commission. We have true fellowship with one another and care for each other as we should. God is Good! All glory to Him!
John McGlone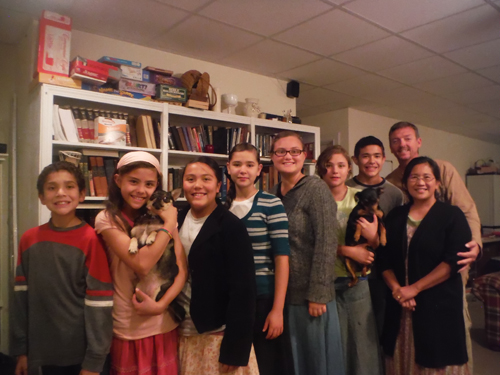 I grew up in the home of a drunkard and wife beater until the age of six with two younger sisters. My father was an adulterer who would lash out at our mother in his drunken rages. When he was sober, he seemed to love us but eventually he would return to his drunkenness. Our mother was a victim of both our father and her father. He abandoned his family in 1965 for his lusts and drunkenness. It is heart wrenching to consider what sin does to people's lives. Because of this background, our mother was constantly going through periods of illness both physical and emotional breakdowns.
My sisters and I were turned over to the social services system in 1966. Our youngest sister went to our great uncle and aunt. My other sister came with me to a group children's home. This place was called Paxton home for children in Leesburg, VA. It was a stable, loving, and Christian place for the most part. It was here that I first heard of Jesus' Kingdom. I heard this Kingdom described from the book of Revelation. I was fascinated by the possibility that I had a Father in heaven that cared for me and knew how many hairs I had on my head.
Over the course of the next six years I was moved to different homes, usually Christian. They would take us to their different churches/denominations. God was using this to both show me His Word and the hypocrisies of many who attended these churches. I read the Bible regularly, prayed, and hoped that we would be returned to our mother.
In Jan 1972 my mother died of either an accidental overdose of painkillers or had committed suicide. She had just recently remarried to a man whom she seemed to love and they moved to California from Virginia with the promise in a few months they would establish a home and send for us. She had an operation on her hands for carpel tunnel syndrome and was in great pain for some months. She was found on the floor one day by my stepfather, unconscious and not breathing. He did CPR and revived her and she was taken to the hospital where she was on life support equipment for a week. Her prognosis was very bad; she was brain dead and it was decided to remove her from the machines and she died.
It was during the funeral of my mother on a rainy day in early February that I directed my anger at God for my mother's death. I was crushed by both her life and her death. I began to deny God, and entered into a life of sin. Drinking, drugs, lusting, and hatred became the food that I fed my soul. By the time I was 16 I was a fully developed criminal who had rejected the love of my grandparents and was sent to a boy's reformatory in Richmond, VA. It was here that I developed even greater criminal skills becoming a; drug dealer, fornicator, street fighter, and generally a wicked person. My life became so bad by the time I was 19 either I joined the military or I would end up in prison. I was homeless, bouncing from one place to another, from one sin to another. I ran back to my grandparents for shelter, but due to my grandmother's illness they could not harbor me. My grandfather gave me $5 and advised me to join the service.
I joined the Navy and began to get some order and discipline in my life. I was still sinning as I loved my sin and thought often that I would ask Jesus to forgive me for all my wickedness before I died. Little did I realize there are many Bible verses about what I was doing counting His love as worthless.
I was married in 1983 to June and had a daughter, Gina, neither of whom did I truly care for as I should have. I was not faithful as either a husband or father living wickedly and storing up the wrath of God. My first wife divorced me for adultery in 1991. She was right in doing so; except for wife beating I was just like my father, a selfish hypocrite. I lived these 15 years in my shame knowing that one day I would give an account to God who created me.
I realized the life of sin I was leading was condemning me before God's throne. I had heard a man on television using the Bible to rebuke people about their wickedness. I thought it was funny how this 'loving Christian' could talk to people in such a way. It was over the course of eight months the Holy Spirit was convicting me of my wretched life. I was born again by God's grace on August 1, 1996. Knowing how much I had offended God, I cried out for His forgiveness for hours. I heard the rejoicing in heaven over my salvation, as I trusted in Christ as my Lord and Savior. I called all my family to tell them I had believed in Jesus and was saved, before I really understood what that meant. Of all my family, my sister was the only one thrilled with my news. Of course, she was already saved by God's mercy, so she was thankful. Soon after I got saved, I met my beautiful bride to be, Leonida, in a discipleship class. After a six-month courtship, we were married.
I retired from the U.S. Navy in May 2001 and returned with my wife to Hawaii. I sold vacuum cleaners for a year and then began as a letter carrier with the United States Post Office. It was during this period that the Lord led us to foster to adopt children. We had prayed for years for children of our own after our first daughter, Bethany Anne died in early childbirth. Through the Lord's guidance over the course of two years we were able to adopt seven children from two different sibling groups. They system wanted to split the children up, but we hired a lawyer and fought their decision and two different judges admonished the administrators for their foolish thinking. Praise the Lord!
Unfortunately, I lived a lukewarm walk with my Lord Jesus for almost eight years. Sometimes I was red hot for His Kingdom and many times I was cold hearted. I heard a message called Hell's Best Kept Secret by Ray Comfort in July 2004. This teaching along with other teachings began to reveal my horrible condition before the Lord. I was trampling the blood of Jesus and had a greater knowledge of Him yet, was not esteeming the sacrifice He made for my sins. I realized I would be one that God would spew out of His mouth if I did not get right with Jesus. As I studied the Bible over the weeks, I realized how little I understood the True Gospel of Jesus (Galatians 1). I would wake up in the middle of the night and cry out to God for hours in prayer, seeking His will. I began to understand what a great salvation we have in Him. I knew I was returning to my first love: Jesus Christ and was doing so with all my heart, soul, mind and strength.
I began to step out in faith and share the Gospel with others. Exercising my faith by witnessing strengthened my spiritually. It helped me to resist temptations, study more, pray more and continue to seek the lost for the glory of Jesus (John 15). As I grew, I realized that I needed to practice the righteousness that Jesus walked in. I realized that I shouldn't be relying on worldly teachings of men that would excuse sin in my life (1 John 3). I realized that out of my free will, I needed to resist sin by the power of the Holy Spirit. I needed to obey my Lord and Savior. (John 14:15)
The Lord began to move me to study open air preaching. I found that as I witnessed to 2-3 people, others would come around and listen. It is during this time that I attended two Evangelism Boot Camps hosted by The Great News Network. It was at these Boot Camps that I met and heard the testimony of Kerrigan Skelly. I began praying for him back in 2005, as I believed the Lord would lead me into ministry with him.
These experiences at these 'boot camps' really helped me in the area of standing up and proclaiming the Gospel. The Lord led others and me to establish The Great News Oahu evangelism team in Hawaii. It was an itinerant ministry geared towards reaching out to the lost and training other Christians to join us in doing the same (Luke 10:2). I spoke at a few Churches about the need of Christians to step out and share the Gospel. Unfortunately, I found that most 'professing Christians', did not want to obey the Great Commission of Jesus Christ to tell the lost of their condition before a Holy and Righteous God. What a shame, people believe most are going to abide in God's justice, hellfire, forever and they are not loving enough to overcome their fear to tell the lost the truth about Jesus.
After the God used Hurricane Katrina to judge New Orleans, I was astonished that many believers would say this could not be the justice of God against America and specifically the wicked city of New Orleans. Shortly after this devastation there were four hurricanes lined up to hit Hawaii. As I studied these storms and began asking the Lord to avert them, I realized God was telling me to move my family off the islands of Hawaii. I began praying for a move to North Carolina. We would be able to minister to my family that lived there, as well as do the Lord's work there. A few months after I began praying, I asked my wife what she thought about North Carolina. She confirmed that she had already been praying the same thing. Hallelujah! This was the first of many confirmations and doors the Lord would open. When I found out the Skelly's were moving to North Carolina I began to get excited. As we prayed for a city to minister in, the Lord kept bringing Fayetteville to my heart, Fayetteville?
Meanwhile, back in Hawaii, we had also started a School of Biblical Evangelism (S.O.B.E.) study at a brother house. We watched as God grew this study and worked in the lives of the people who attended. We began to go out to Waikiki and other venues regularly to preach, hand out tracts and witness 1-2-1. Many people got to hear the full truth of the Gospel to the glory of Jesus! Witnessing and working in the labor field together bonds the brothers and sisters in supernatural love. I had never experienced such wonderful relationships with God's people before. Sadly, some would leave due to doctrinal issues and not return to God's labor of love for the lost.
As we continued in earnest prayer for our move, God opened and shut doors. Praise the Lord, two years later the Lord answered our prayers in amazing ways! My family has transitioned from Hawaii to our new home in Fayetteville, NC then to a farm in central KY. I am now working full-time to reach out on college campuses, festivals, and on the streets with Kerrigan. We are raising our children in the admonition of the Lord. Raising chickens for eggs and meat, learning how to live off of what God has provided. God is fulfilling the very desires of our hearts! That is, to be salt and light in this region to people who so desperately need to know the Jesus of the Bible. Hallelujah, praise God!