Evangelism Resources
This page is here to help Christians in their daily walk with Christ with special focus on the area of Evangelism, of course. If you have ideas, suggestions, or requests on how to improve this page just
let us know
. Our goal is to help equip the Church in the area of Evangelism! Hope this helps you to Glorify God! All resources are ones that we use personally and you can share them freely unless otherwise noted. Please feel free to help yourself to any or all of the resources found here.

Bible Inserts
- These are 7.5'' long x 5'' wide and can fit inside of any medium size Bible or larger. There is a variety of information on each one. They will have information about the religion, what to ask people who believe in it and how to defeat the ideas behind each apologetically. Be prepared to give an answer to anyone and everyone!
"Missing Links"/Definitions of Evolution
Evolution Fact Sheet
Evolution Quotes
Muslim Fact Sheet
Mormon Fact Sheet
Mormon Questions and Scriptures
Abortion Fact Sheet
The Canonicity of the Bible
Manuscript Evidence and Comparison
Need Some Motivation For Witnessing?-
Well, if nothing else helps, I may half to give my buddy the
Evangelism Linebacker
a call. I don't think you want it to come to that now to do? If not, you better "get off tha flo and go doe to doe," as the Evangelism Linebacker would say. Seriously though, DO SOMETHING to reach the lost that you come into contact with each day. If you don't, the
Blood Is On Your Hands
. Don't fall to the lie that if you don't witness to someone that God will raise up someone who will. Read this
Poem
and this
Story
to help motivate you as well. Here is some motivation for
Passing Out Gospel Tracts
. Also, here is some help on
Where To Pass Out Gospel Tracts
.
We should ALL, at the least, be passing out Gospel Tracts. The question becomes, "Where do I find unique, creative, inexspensive, high quality and BIBLICAL Gospel Tracts?" Well, we have the answer for you! We offer several different sizes, a discount for buying in Bulk Amounts and we can even create your very own Customized Gospel Tract! Just click on the banner below to go to our Gospel Tract website and learn more:

Christian Bumper Stickers-
We need to share the Gospel with the lost world in every way possible. Here is just another way of doing that. I find that they work great as far as starting a conversation with someone who has seen them. Also, it reaches people you would never be able to reach otherwise: those who are driving in their vehicles behind you. Below are some of the ones that Evangelist Kerrigan Skelly has had on the back of his vehicle. Just click on one of them to go to the website he ordered them from. "Testimony Time" Ministries offers them free of charge.
T-Shirts, Hats, Buttons and Stickers
Besides putting bumper stickers on your car, one great way to get the message out is by wearing Bible t-shirts, buttons or stickers on you or something that you are carrying. Here are some that we have designed, that you can order through our
Zazzle Store
:
Open Air Preaching Resources/Tools
Half Mile Hailer
- This unit is BIG TIME! This is for those events where you have to overcome a bunch of background noise pollution. Great for reaching lots of people in a large area. It claims that you can hear it over 1/2 mile away and we believe it! It does take 10 "D" batteries, but they should last about 40-80 hours, per set (depending on how loud you have it set to). There are many versions of the hailer, but we use the one above. They have wired versions (with a wired mic), wireless mic versions (like the one above) and ones with wireless headsets. It has a total of 50 watts. It is expensive, but worth every penny if you ask us!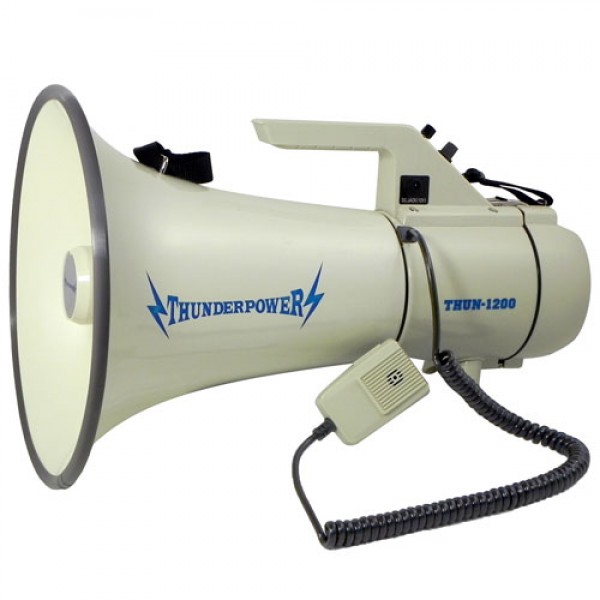 ThunderPower 1200 Megaphone
- This bullhorn is only a step below the half-mile hailer in how loud it is. It is a great unit and is inexpensive for how loud it is. It takes less and smaller batteries than the half-mile hailer. It does have a mic port, in case you want to use a regular mic, but it's not as flexible in options as the half-mile hailer and not as high quality in construction as the half-mile hailer.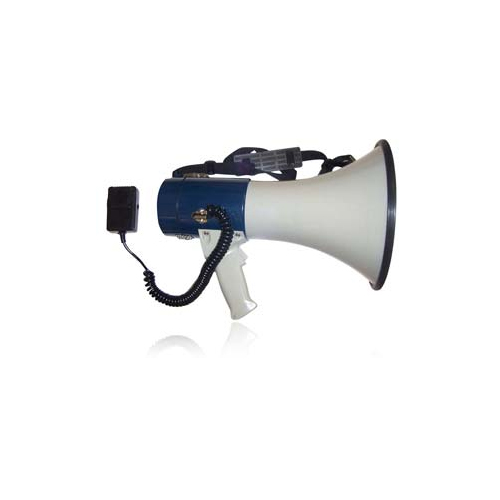 Radio Shack Megaphone
- Even though this megaphone is only 10 watts, it is very loud. It is durable, inexpensive and good quality. If you preach in locations where sinners may get physical with you, then this is the one to get. You can buy a replacement plan for this megaphone and get a completely new one if someone breaks it.
Aker 2800 Amp
- This unit is very small and portable. It is lightweight and very loud for its size. It is rechargeable and the charge will last for quite some time. It is "hands free" via the headset. We use this at events that aren't very loud, yet we still don't want to wear out our voices. It comes with a headset microphone, charger cable (US plug), MP3 cable (male to male 3.5mm), MP3 line in port, microphone line in port, USB Port, SD Card Port, adjustable waist band and Carry bag.
Folding Open Air Preaching Stool
- Elevation isn't necessary when preaching, but it is very helpful. Not only does it make the preaching easier on your voice, but it also gives you more authority. Often times there is some natural elevation nearby. If so, just use that, if at all possible. If not, this stool would be great to get. It costs around $35 and it folds up pretty good. It only weighs about 7lbs. itself, but will hold up to 300lbs. on top of it.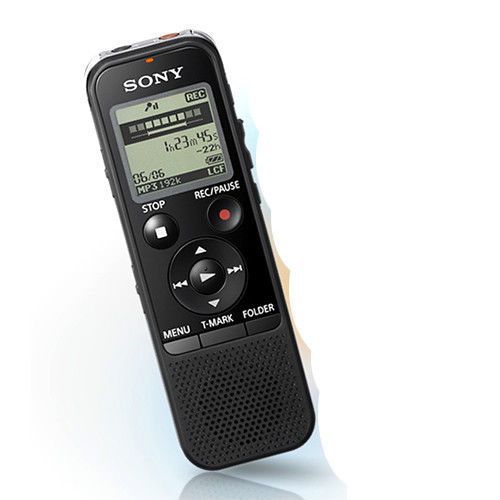 Sony Audio Recorder
- We HIGHLY recommend that you never go out preaching without an audio recorder running. In this age of lawless sinners and lawless cops, you must protect yourself. Otherwise, it is your word against a sinner's word before a judge, who is also most likely against you. We recommend the one above, but you don't have to get this one. However, this one will record for hours and hours and hours on a couple of AAA batteries and a 4GB internal hd. Also, it can connect to your computer via a USB plug. Whatever one you decide to get, make sure that it can last for long periods of time and can connect to your computer.
Canon Camcorder
- At the least, we recommend that you have an audio recording device on you (see above), to protect you from encounters with unlawful cops and unlawful sinners. BUT, ideally, you should have a video camera as well with someone else doing the video taping. We recommend the Canon brand camcorders. You don't necessarily have to have the exact one pictured above, but most of the Canon camcorders in this price range are really good. They take good quality video footage, are relatively inexpensive and usually have a lapel mic (external mic) port. Lapel mics are great for getting good sound quality in your videos. Lapel mics also allow the person video taping to have conversations with people without having their voice on the video recording.
Audio Technica Wireless Lapel Mic System
- This is the wireless lapel mic system that we used for years. It worked pretty good! It is relatively inexpensive and gives pretty good sound quality. It gives your video footage good sound and allows the camera man to talk to someone about Christ, without "messing up" the video footage. The range is 100' to 300'. It is considered an "entry level" wireless mic system. The receiver plugs into the mic port on your camcorder. The mic and transmitter remain on the person preaching.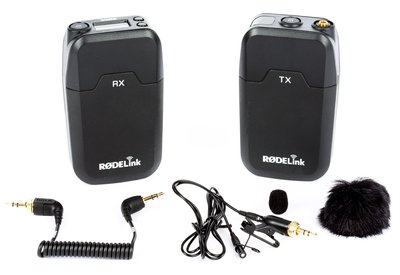 RodeLink Wireless Lapel Mic System
- This is the wireless lapel mic system that we use now. It's a little more expensive than the one above, but the sound quality is amazing. You won't get better sound quality, even if you spend double the money you spend on this. If you search around, you may be able to find it for a better price. That's what we did. It offers all of the same features as the above system, but it is much better and well worth it, if you ask us. Rode has been making mics for YEARS!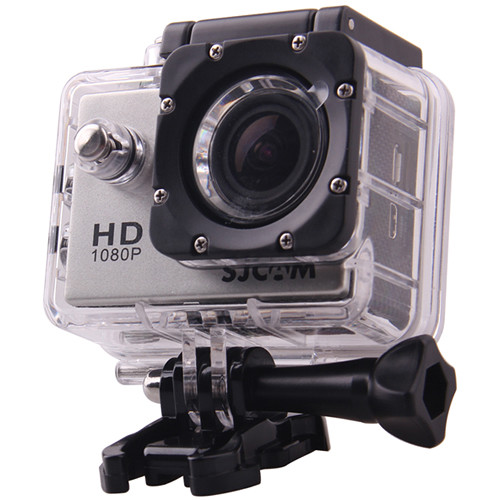 SJ4000 Action Camera
- Don't have someone to come along and videotape the preaching? Get yourself a GoPro Style camera for much cheaper. In fact, I think it is better than a GoPro. It can use all of the same accessories as the GoPro. It has a screen on the back of it. It is really good for protection and high quality recording, on a budget. You can also get a
Chest Mount
and then it's completely hands free! It sees everything you turn your body towards!
Camel Back
- This is a great invention for open air preachers. When speaking for long periods of time, not only can we get dehydrated, but we can wear out our voices. Instead of having to buy tons of bottled waters or using both hands to unscrew a bottled water, just reach your mouth over to the mouthpiece, bite down and suck. Up comes whatever fluid you put in the camel back. The camel back also keeps your drink cold!
Free Gospel of John's
- Of course, it always important to have the word of God that you can give to people that are interested. The Pocket Testament League has been giving away free Gospel of John's for a long time. You can get up to 30 at a time and all you have to pay is shipping and that is a small price.
Books That Have Blessed Us
Continually Updated!-Books We Have Read And Recommend To You
- This is a list of books that we recommend to any serious Christian. They are on a variety of subjects and issues, so please take a look! We don't necessarily agree with everything written in every book, so make sure that you are a berean and that you study to show yourself approved. In other words, "eat the meat and spit out the bones". Of course, there is NO SUBSTITUTE for the Bible, which is the living Word of God. NEVER sacrifice reading your Bible in order to read another book, whether that other book is a Christian book or not. If you are interested in purchasing any of these books, please consider purchasing them from us. Just go to our
Bookstore
. God Bless!

Free Book- Revolution In World Missions
- This book will literally revolutionize the way that you look at reaching the lost worldwide. "In this exciting and fast-moving narrative, K.P. Yohannan shares how God brought him from his remote Indian village to become the founder of Gospel for Asia." This book will challenge the way you, as an American Christian, look at Christianity forever. You can order a hard copy for free
HERE
. Or you can click on the name/picture to download the .pdf file and read it for free.
Free Book-Tortured For Christ
- "This dramatic testimony shocked the Western world! After spending years in underground prison cells and solitary confinement, enduring inhumane tortures, Richard and Sabina Wurmbrand emerged with the testimony of today's Christian martyrs. The 30th Anniversary Edition features photos, testimonies from Christian leaders and an update on the work of The Voice of the Martyrs." This book definitely rocked our boat. How can we ever forget our persecuted brothers and sisters in Christ ever again?!

Free Book-The Pursuit of God
- This book was written by A.W. Tozer, a man who KNEW God. This book has effected many people since Tozer wrote it including us. Now you can read it for free online, by clicking on the picture. "Lord, I must speak of Thee," wrote Tozer, "lest by my silence I offend against the generation of Thy children." Written during a train trip from Chicago to McAllen, Texas, The Pursuit of God has become a classic best-seller. Recipient of both the ECPA Gold and Platinum Book Awards.